Fitter, stronger, faster. Could this be you?
magazines
|
June 2010
In search of a more efficient firm
Practice, made perfect
How law firms can drive efficiency by combining technology and outsourcing
Prof Richard Susskind
What law firms must do now to address the challenges of legal services reform
pLUS
Analysis on better client development, and case studies on how integrated IT drives efficiency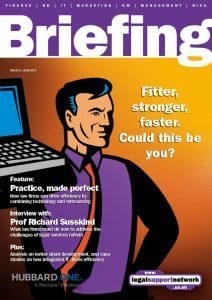 Welcome to Briefing. Whatever you do in your law firm, this e-zine is for you. Every month Briefing will unpack a key topic as it affects business services and support people at law firms, with an interview, a feature and useful, relevant case studies and analysis.
LSN has never done things the old-fashioned way – which is why Briefing has been designed with the future in mind, not the past. Our launch issue, brought to you with Hubbard One, looks at driving up efficiency.
WHAT THE FUTURE HOLDS

Interview with professor Richard Susskind: Rupert White talks to the UK's most prominent legal process futurologist, technology guru and law firm go-to man
ENABLING RELATIONSHIPS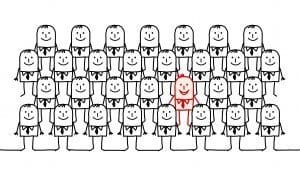 The global financial crisis has forced firms to focus on the efficiency of their client development processes. 'Make once, use many times' is the mantra for many firms and, as Chris Turk of Hubbard One explains, technology is helping make this a reality.
PRACTICE MADE PERFECT
Using a combination of technology and outsourcing, law firms can make fast and easy efficiency wins, says Rupert White