What are your biggest threats in 2020?
Rupert Collins-White, content and creative director and Richard Brent, editor-in-chief
|
Briefing
No surprises here! When we asked business services leaders which competitors were most threatening to their firms' futures, the 'standard competition' (similar law firms) came out on top with 29% – not significantly higher than the 26% figure from last year.
The 'standard competition' is those firms that have a similar business model – relatively familiar ground. "Where there is competition for like-forlike work with firms that have a similar level of expertise and similar fees, then there is a need to think of other ways to compete – to be more creative the the offering," says our mid-market knowledge leader.
Stuart Whittle, business services and innovation director at Weightmans, similarly defines standard competition as "firms who operate in our version of the legal market, where we have expertise and they have similar expertise, looking to work for similar clients.
But we did something a little bit different this year to explore another angle on the standard competition. We added an entirely new category – 'bigger firms than mine' – as an option in the competitive mix. The outcome was interesting – 'bigger firms than mine' was not only seen as a threat by 17% of law firm leaders, putting it in second place, but ranked higher than 'the Big Four and other consulting companies' – which figured at 16% (no change at all from last year).
Perhaps not a surprise, as the bigger firms and the Big Four have the economies of scale to be more of a threat, our mid-market knowledge leader adds.
Damien Behan, IT director at Brodies, says that firms can do something about the situation, however: "They should be smarter about how they resource work, and realise that they're not reliant on the billable hour."
THE IT FACTOR
Does job role have any impact on how respondents view the competitive landscape? Last year, we put the competitive threat question mainly to IT people – who comprised slightly more than 70% of respondents. This year, we asked both IT and 'non-IT' people.
And the difference in results was rather dramatic – not in terms of how the two groups viewed 'standard competition' (over a quarter went for this in both cases – comparable to last year), but when it came to the perceived threat from 'legal tech-based new businesses'. With non-IT people in the mix, it plunged to 8% compared to 17% last year – for both 'outcomes' and 'lawyer' firms.
Our curiosity was aroused – prompting us to dive in and compare this year's 'IT people' responses with those of 'non-IT people'. While 10% of IT people saw legal tech and online businesses as a threat, only 6% of everyone else did. Do IT people know something everyone else doesn't? Or is it a case of 'a hammer sees a nail everywhere'?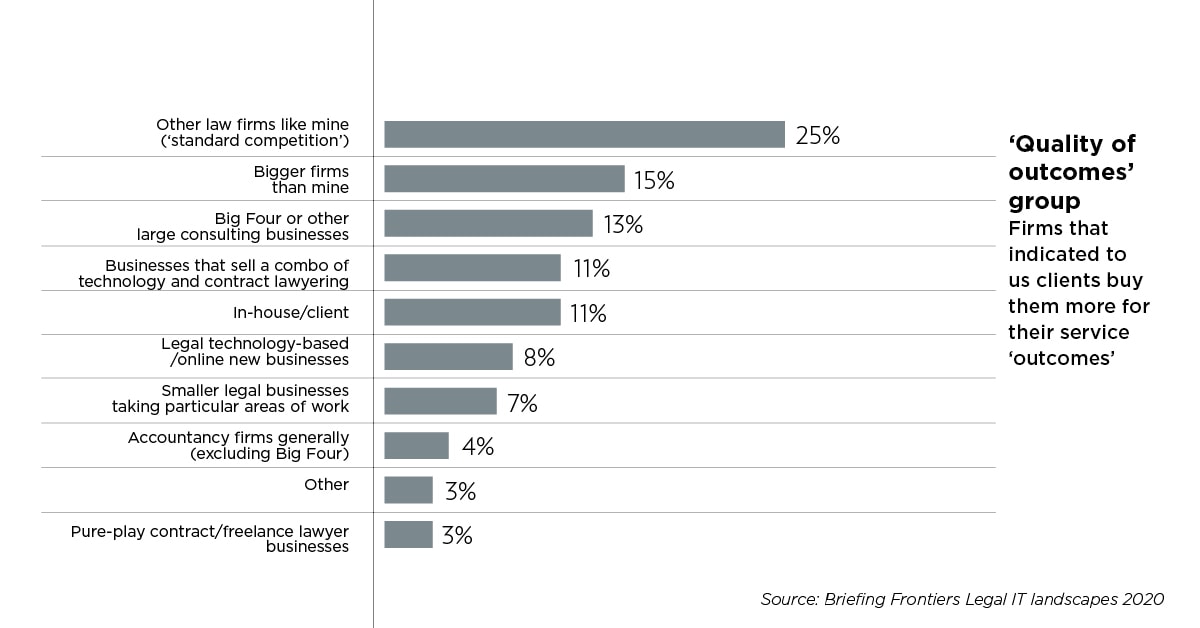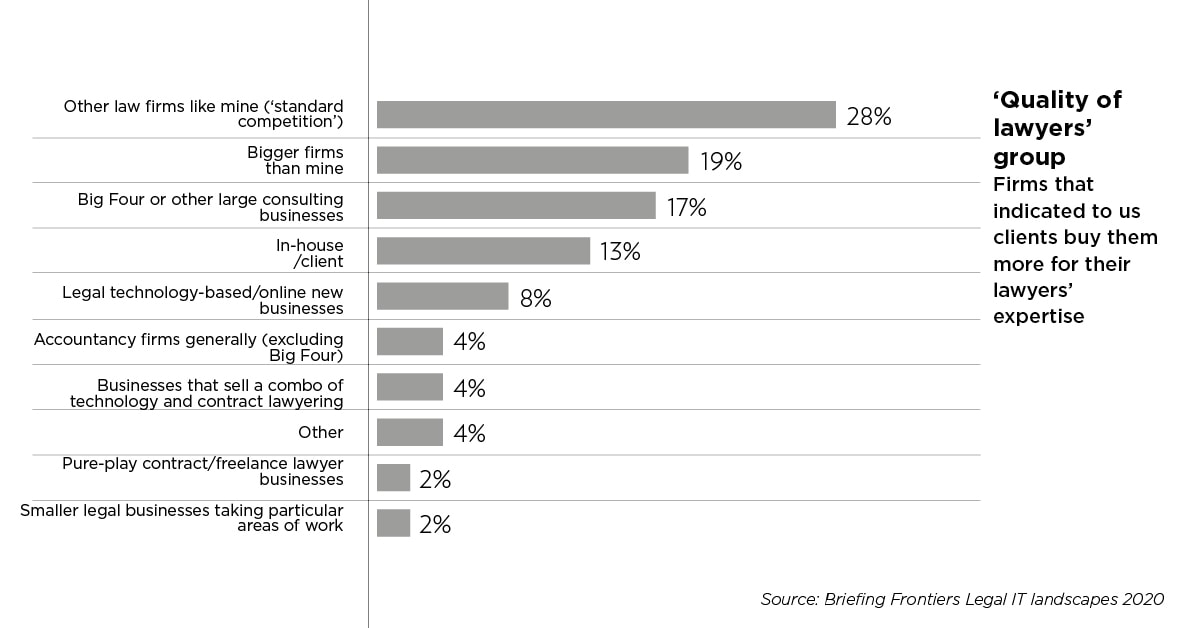 "[Firms] should be smarter about how they resource work, and realise that they're not reliant on the billable hour."
DAMIEN BEHAN, IT DIRECTOR, BRODIES
TECH-BASED?
What does 'tech-based online business' mean, anyway? More importantly, what did people think it was when they selected it as a threat? We asked for some descriptions and names of companies (see p11 for some interesting reactions from these so-called 'threats'). Some respondents simply defined it as any legal company that uses legal tech a lot (which is probably how alternative legal service providers (ALSPs) such as Avantia and Quislex made their way into the list). Others defined it more precisely as "any business with a low cost base using legal tech effectively to do narrow tasks."
When we dug deeper, we actually found that around half of the responses were actually 'contract lawyering and tech'. This likely doesn't point so much to a confusion over terminology, but the fact that 'tech' is by now part of the fabric of how any legal business operates and delivers: the lines are becoming increasingly blurred. All law firms are now using legal tech 'effectively to do narrow tasks' – the difference is just a matter of degree.
This article can be found in Briefing report: Legal IT landscapes 2020